So it's going to be official...I will be teaching K-12 art next year, with my priority at the 7th Grade and Studio Art classes, and then filling in electives and the elementary grades. More than likely, I will end up having the elementary grades once a cycle. I have it on a good note that if I can increase the numbers of students in electives classes, that the district might have to hire another art teacher in the future (which would be good news!). Unfortunately, the reason we are going down to one art teacher is because students aren't signing up for the electives...2-3 students per electives isn't enough. I created a list of electives I'd want to teach, including possible projects, and the counselor is going to go back to the high school students to see who would sign up for them (I'm thinking a Ceramics class, Cartooning, Advertising & Design, Fashion Design...)
Anyways, the thing I'm starting to fret about is supplies and the condition of the other art room I will be using (yes, I will have two art rooms I'm in charge of). I have a good idea of the supplies that are in the high school art room, as well as the [not so good] condition of a lot of the stuff, including paint. I'll still be able to order supplies with the remaining budget (however due to the circumstances at our district, we need to do a 10% cut in supplies...not that big of a deal for me...)
Here's what I'm asking you...I want to make some changes in the high school room as to what supplies are used and such. Depending on my electives, I'll have a class of 19 in Studio, and two classes of approximately 16-18 for 7th grade. Studio will probably run the entire year, and 7th grade is every day for half a year. Below are some supplies that I've been thinking of switching to in the past and I'd like your take on how they work if you've used them before!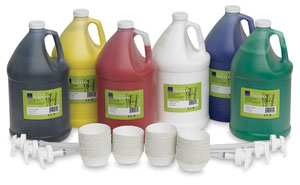 1. Blick Student Grade Tempera with Pumps
: A lot of the paint in the high school end is chunky, smelly, separated and from the 80's. The previous teacher didn't do so much with painting, she was more of a sculpture teacher. I generally use Crayola in the elementary end, but I want to try out the gallon size jugs of tempera for the high school. I plan on buying paint palettes with the lids for conserving paint when we do paint projects (each student will get their own palette for paint, with a lid).
How do these pumps work? do they tend to clog easily? Would you suggest a different brand of tempera in the gallon size jugs?
I'm thinking that I could buy two sets of these gallon jugs, maybe an extra white, and be set for the entire school year, if not longer...as long as I can teach them to conserve paint properly and my idea to use the paint palettes with lids works!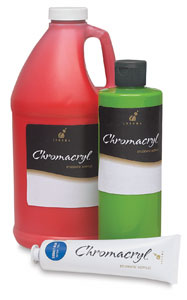 2. Chromacryl Acrylics, 1/2 gallon with pumps:
I generally prefer to paint with acrylics (I'll be staying away from oil paint for now...I've never been officially trained or educated in oil paints.) so I want to go with the 1/2 gallons of Chromacryl. I use this brand in the Elementary, but I usually go with the pint size.
Again, how do the pumps work with the acrylic? Do they clog up a lot? Are the pumps a waste of money? Does anyone use a different acrylic paint that can be bought in bulk that is of the same quality at a cheaper price?
On the Elementary end, I've been using the round palettes and lids to hold the acrylic paint during an entire project and it really works well. I've wasted a lot less acrylic doing it this way, so I plan to continue that in the high school.
In the next week or two I'll be trying to do an inventory of the other art room in my spare time, so I may have more supply questions to add!